Garrett Hilbert is an American YouTuber or reality show performer who is known for his amazing real-life trick shows performances and game challenges on YouTube. He is also one of the founding members of the American well-known sports and comedy group, Dude Perfect (DP).
| Quick info | |
| --- | --- |
| Birth name | Garrett Hilbert |
| Birth date | 13th March 1987 |
| Birth place | Plano, Texas, United States |
| Nick name | Purple Hoser |
| Nationality | American |
| Ethnicity | White |
| Bachelor's Degree | Texas A&M University |
| Master's Degree | The University of Texas |
| Height | 5 feet 11 inches or 180.5 cm |
| Weight | 71 kg or 156.5 lbs. |
| Zodiac sign | Taurus |
| Spouse | Kristin Hilbert |
| Children | Owen, Lincoln and Iris Herlbert |
| Social media | Twitter, Instagram, YouTube |
| Partners | Tyler Toney, Coby and Cory Cotton and Cody Jones |
| Net worth | over 1 million dollars |
Where was Garrett born and raised?
Garrett Hilbert was born on 13th March 1987 in a city in Texas called Plano. He used to play all sorts of sports since his childhood among which Basketball is his favorite sport of all time. Not much information about his parents has been disclosed yet. He is also known as Purple Hoser which is his nickname among the group, Dude Perfect. The reason for his nickname came as he easily gets sunburnt.
Garrett Hilbert belongs to American nationality and he has white ethnicity.
Education
Hilbert was educated in Texas. In 2010, he completed his Bachelor's degree in Environmental Design from Texas A&M University. In 2012, he completed his Master's degree from The University of Texas at Arlington in Architecture.
How did Garrett start his Career?
Garrett Hilbert interned as an architect for 2 years in PBK Architects after completing his Master's degree. However, he gained more opportunities in the show business. He met 4 of his friends Tyler Toney, Coby Cotton, Cory Cotton, and Cody Jones at Texas A&M University. They once recorded the video of them playing basketball betting on sandwiches. The video got viral over time so they decided to make several other videos that gained the attention of people all over the world.
The groups were called by several entertainment channels and were highly popular. So, they decided to open up their own channel named Dude Perfect on 16th March 2009. Since then, they launched their own television show rather than performing in other shows. They also launched their own mobile game for both Android and iOS in 2011. Together with his friends, Hilbert has gained several Guinness World Records.
Body Measurement
He is 5 feet 11 inches tall or 180.5 cm. He has a bodyweight of about 71 kg or 156.5 lbs. He possesses a slim body build and he has blue eyes and auburn hair
Hilbert's sexuality is straight. He is known for his stubble beard and thin eyebrows. He has a zodiac sign, Taurus. As for maintaining his physical statistics, he does not have any workout routine but he does indulge himself in various sports.
Who is Hilbert married to?
Garrett Hilbert tied his knot in May of 2011 to a beautiful Instagram vlogger, Kristin Hilbert. The couple together has 3 children namely Owen born in 2015, Lincoln in 2016, and Iris Hilbert in 2018. The couple recently celebrated their 10th anniversary in May 2021. His wife also joins his program sometimes. The couples currently reside in Texas. He manages his time between Dallas and Fort Worth.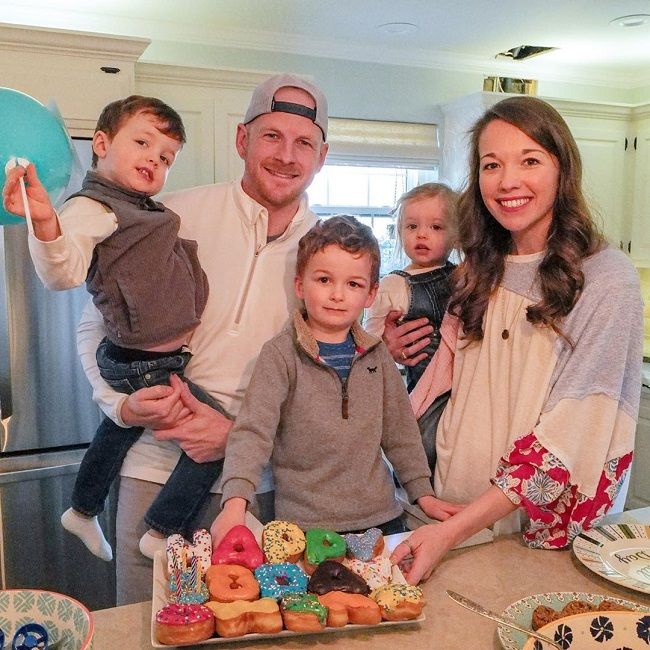 Hilbert is a sports lover. He enjoys almost all types of games. His favorite one is basketball but recently he has shown his keen interest in golf. We can see him and his family playing golf from time to time on his social media. He also loves to spend his time with his family. He also owns a cat.
Social Media
Garrett Hilbert is active on Instagram with over 1 million followers where he can be connected by @garrenhilbert. He is also active on Twitter where he has gained over 46.2 thousand followers and can be connected by @GarrettHilbert. His professional YouTube channel has over 56 million subscribers which goes by the name Dude Perfect.
How much is the Current Net Worth of Hilbert?
Garrett Hilbert has a net worth of over 1 million dollars up to a maximum of 5 million dollars. His channel has garnered millions of views and over 56 million subscribers. They have also further endorsed several brands and companies like Ruffles, Callaway Golf Company, Garmin Ltd., Coppertone SPORT, and CareOne Sport Sunscreen. The net worth of Dude Perfect is estimated to be 30 million dollars so we can see that he is making fortune with his partners from his career.
Check out FameandName to know amazing facts on Celebrities' private life, net worth, careers, lifestyles, and more.
Tags
Others