Kamala Harris, the USA's current vice president, is an American politician and an attorney. With Joe Biden as president, she will be in the office on 20th January 2021. Kamala belongs to the Democratic Party. She will be succeeding Mike Pence as the vice president of the United States of America and assumed the position on January 20 of 2021.
Quick Info
Full Name
Kamala Devi Harris
Date of Birth
October 20, 1964
Birth Place
Oakland Medical Center, Oakland, California, United States
Parents
Donald Harris
Shyamala Gopalan Harris
Profession
Politician, American Attorney, Junior United States Senator from California, Vice President-Elect of USA
Spouse
Doug Emhoff
Age
56 years
Height
1.58 m
Children
2
Net Worth
US $2 million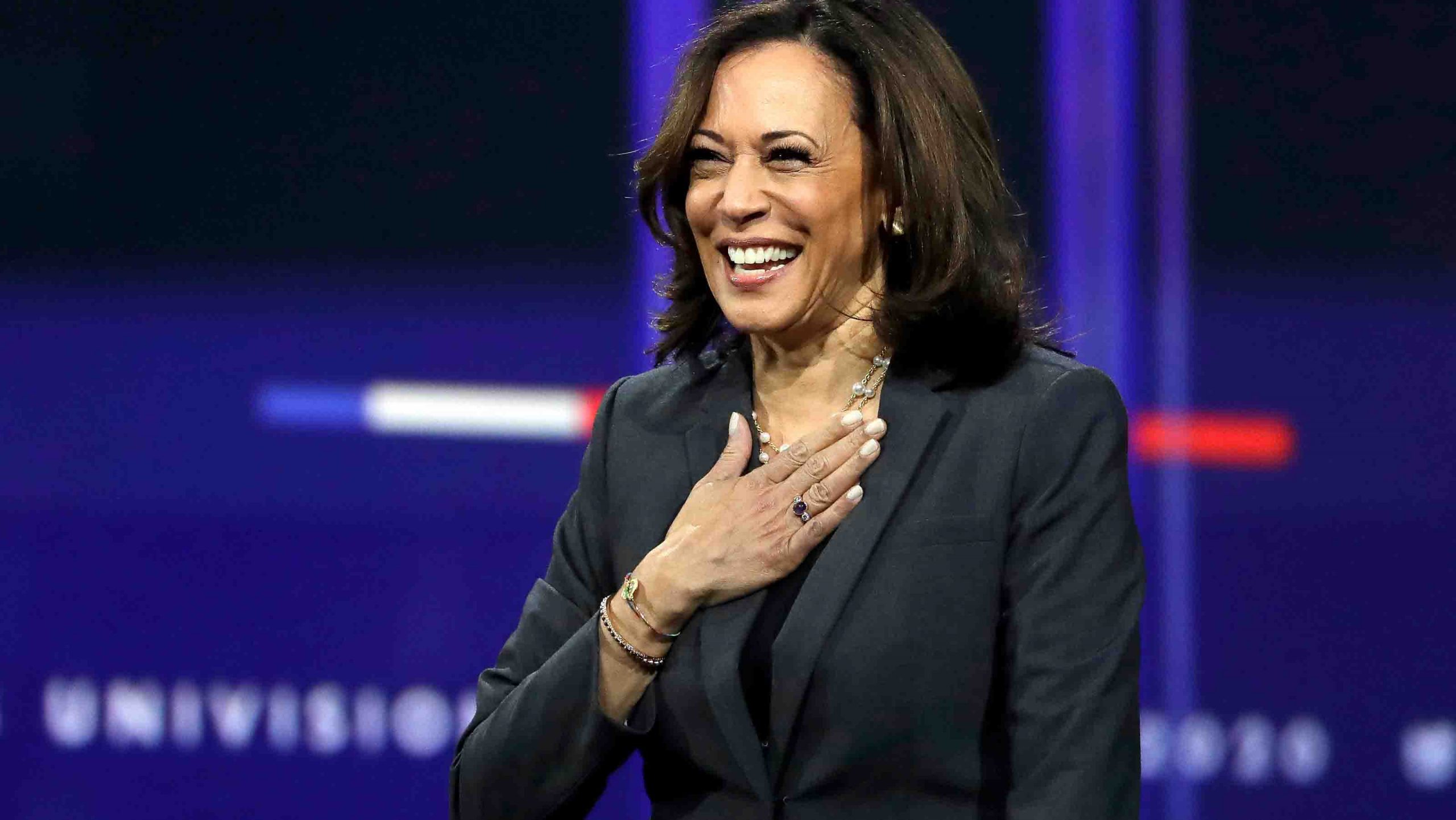 EARLY LIFE
Kamala Harris's full name is Kamala Devi Harris. She was born to parents Donald J. Harris and Shyamala Goplan on October 20, 1964, in Oakland. Her mother is a biologist, and her father is a professor of economics at Stanford University. Her mother is from Tamil Nadu, and her father is from Jamaica. Harris has a sister named Maya. She went to Oaks Elementary School.
When Kamala was 7, her parents divorced. Later their divorce, the lady lived with her mom in Canada and graduated from Westmount High School in 1981. Harris graduated from the University of California in 1989 with a Juris Doctor. 
CAREER
Kamala Harris started her career as a deputy district attorney and worked in Alameda County, located in California. She was responsible for the prosecution of cases relating to murder, robbery, and rape. Harris worked there from 1990 to 1998. From 1998, she worked as San Francisco District Attorney. She was named the head of the division relating to Community and Neighborhood but the then City Attorney. She became the district attorney of San Francisco in 2003 and got reelected in 2007. She is the first woman of African/Asian descent to work in this position.
She implemented a program that allowed people charged for drug dealing to complete their high school education and find employment opportunities if it was their first time to become convicted. Kamala released a book that looked at criminal justice from the perspective of economics in 2009. She achieved the feat of becoming the first African/Indian American to become California's attorney general on January 3, 2011. She is also the first woman to be seated in this position.
In November of the 2014 year, Kamala Harris got re-elected, winning Ronald Gold. She won the election for the State Senator of California in 2016. She was able to bag 62% votes and, by doing so, successfully defeated Loretta Sanchez. She got sworn in as the senator on January 3 of 2017. Kamala Harris ran for president in 2020 but dropped off from the presidential race due to a lack of funding. She later tagged along with Joe Biden and endorsed him.
In August of 2020, Joe Biden stated Kamala as his running companion for the 2020 presidential polls. After Joe Biden won the election, Kamala Harris fitted the first American of African/Indian descent to be a vice president-elect. Alongside Joe Biden, she will be assuming the seat in the office on 20th January of 2021. She released her book titled "Superheroes Are Everywhere" in 2019. The same year, she released the book called "The Truths We Hold: An American Journey." 
Honors
NBPA awarded Kamala Harris the Thurgood Marshall Award in 2005. Kamala Harris was identified as one of the most powerful women in their top 20 list by Newsweek in 2005. The following year, she was honored with an Outstanding Alumni Award by Howard University. In 2008, California Magazine had her in the list of their top Attorneys of the Year. She was also titled "100 Most Influential People in the World" by Time Magazine in 2013. Harris got awarded an ECOS Environmental Award in 2018. 
PERSONAL LIFE
Kamala Harris and Douglas Emhoff got married on the day of 22nd August 2014 in Santa Barbara, located in California. Douglas is an attorney and has two children from his previous marriage. Kamala is the stepmother of the two. Kamala is a Baptist Christian. Their joint net worth is estimated to be around US$ 5.8 million. 
Height, Weight, and Age
Kamala Harris stands 1.58 meters tall and weighs approximately 59 kg. As of November of 2020, she is 56 years old.
Social Media
Kamala Harris is active on social media platforms like Twitter and Instagram. On Instagram, Brie has 11 million followers, and on Twitter, she has 10.5 million followers as of November of 2020.
You can follow her on:
Twitter:
https://twitter.com/KamalaHarris
Instagram:
https://instagram.com/kamalaharris
NET WORTH
Kamala Harris' net worth is estimated to be around US$ 2 million as of November of 2020.
Tags
Others