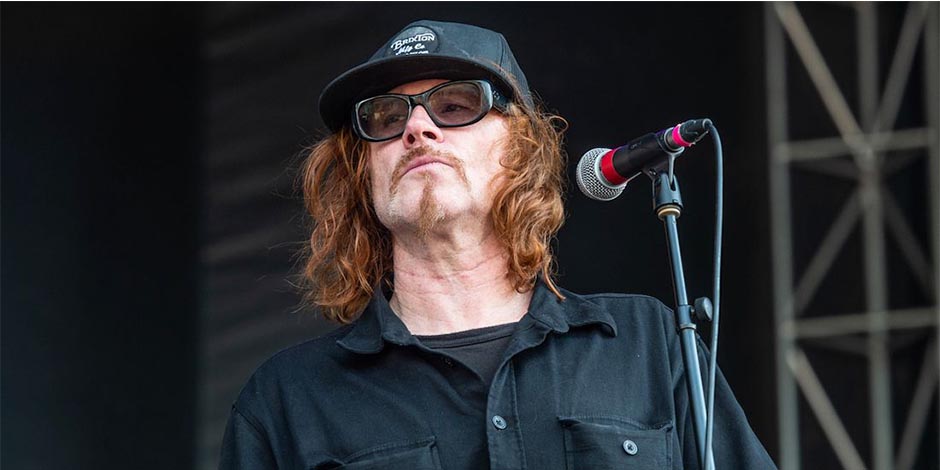 Mark Lanegan, who recently released his 12th studio solo album titled "Straight Songs of Sorrow" on May 8, 2020, is a singer/songwriter/musician hailing from the United States of America. He has been active in the industry since 1984 and has worked with acts like Screaming Trees, The Jury, Mad Season, Soul Savers, and Unkle, to name a few. He generally dabbles in genres like alt-rock, grunge, blues, and folk-rock. 
| Quick Info | |
| --- | --- |
| Full Name | Mark William Lanegan |
| Date of Birth | November 25, 1964 |
| Birth Place | Ellensburg, Washington, United States |
| Profession | Singer, Songwriter, Musician |
| Spouse | Wendy Fowler (2002-unknown) |
| Age | 55 years |
| Height | 1.88 m |
| Children | 0 |
| Net Worth | US $1 million |
Where was Mark born and raised?
Mark Lanegan's full name is Mark William Lanegan. He was born on the day of 25th November of 1964. Mark Lanegan began doing drugs, and at 18 years of age, he became an addict. He was jailed and rehabilitated for a year. After coming outside of jail and rehabilitation, he met brothers Gary Lee and Van Conner. Together they formed the band named "Screaming Trees." 
How Lanegan started his Career?
Mark Lanegan started his music career with the band named "Screaming Trees." The band was formed in 1984 and consisted of Gary Lee Conner, who played the guitar, Van Coiner, who was on the bass, and Mark Pickerel, the drummer alongside Lanegan, who did the vocals.
They were a part of the grunge scene that originated in Seattle. In 1986, they released their first-ever EP, which was titled "Other World's." They signed to Velvetone Records in 1985 and released "Clairvoyance," which was their first album.
Their 1992 album "Sweet Oblivion" was their breakout album. The band's final album was named "Dust" and got released in 1996. Till 2000, the band did several shows and recorded demo tapes but eventually split up. Mark's first solo album was called "The Winding Sheet" and got released in 1990. Kurt Cobain also did backing vocals in one of the songs from the album.
  His second album, titled "Whiskey for the Holy Ghost," got released in 1994; he almost didn't finish the album as he wanted to throw the masters into a pond nearby. He dropped his fifth studio album in 2001, and it was titled "Field Songs."
His next album got titled "Bubblegum." It got released in 2004 and topped at the number 39 spot on the Billboard Top Independent Albums Chart. He released "Dark Mark does Christmas" in 2012. This album was themed around Christmas and only got released at his concert.
He released "No Bells on Sunday" in July of 2014. He worked with Queens of Stone Age from 2000 to 2014. For their album "Rated R," Mark did the lead vocals for the song called "In the Fade" and backing vocals in several other tracks. This song was his first time working with them.
Mark and Afghan Whigs from Twilight Singers formed "The Gutter Twins" in 2003. On October 18 of 2019, he released his 11th solo album titled "Somebody's Knocking" and followed it by the album "Straight Songs of Sorrow" in 2020. In 2017, he released the book called "I Am the WolfLyrics and Writing." On 8th April of 2020, he released the memoir titled "Sing Backwards and Weep."
What is the relationship status of Mark?
Mark Lanegan has been sober for almost 20 years now. Mark was married to Wendy Fowler in 2002. They first met in 1998. However, they divorced later on. As of November 2020, Mark doesn't have any children and is single. Mark finds it extremely difficult to talk about Kurt Cobain, and his suicide had a massive impact on Mark's life. 
Social Media
Mark Lanegan is active on social media platforms on Twitter. On Twitter, he has 46.3k followers, and he follows 641 accounts on Twitter as of November of 2020. On June 4, 2018, he shared a tweet in which he called out the absurdity of a website claiming his net worth to be US$ 3 million. 
Net Worth
Mark Lanegan's net worth got estimated to be around US$ 1 million in 2021. He makes most of his money from being a professional musician.
Tags
Others