June Diane Raphael, who is known for her works in "Burning Love," "Grace and Frankie" and "NTSF:SD:SUV::" is an American actress/comedian/screenwriter who has been active in the industry since 2002.
EARLY LIFE
June Diane Raphael is born to parents John and Diane Raphael on January 4, 1980, in Rockville Centre, which lies in New York. She grew up in Rockville Centre too. Her two elder sisters are named Deanna and Lauren. While at New York University, she acted in the Tisch School of Arts and the Stella Adler Studio. Casey Wilson, her best friend, and June went to UCB, where they studied improvisational comedy. They had their sketch together at UCB for several years. June is of Irish descent, and she got raised as a Catholic Christan. 
Quick Info
Full Name
June Diane Raphael
Date of Birth
January 4, 1980
Birth Place
Rockville Centre, NY, US
Parents
Diane Raphael
John Raphael
Profession
Actress, Comedian, Screenwriter
Husband
Paul Scheer (2009-Present)
Age
40 years
Height
5 ft 9 in
Children
2
Net Worth
US $4 million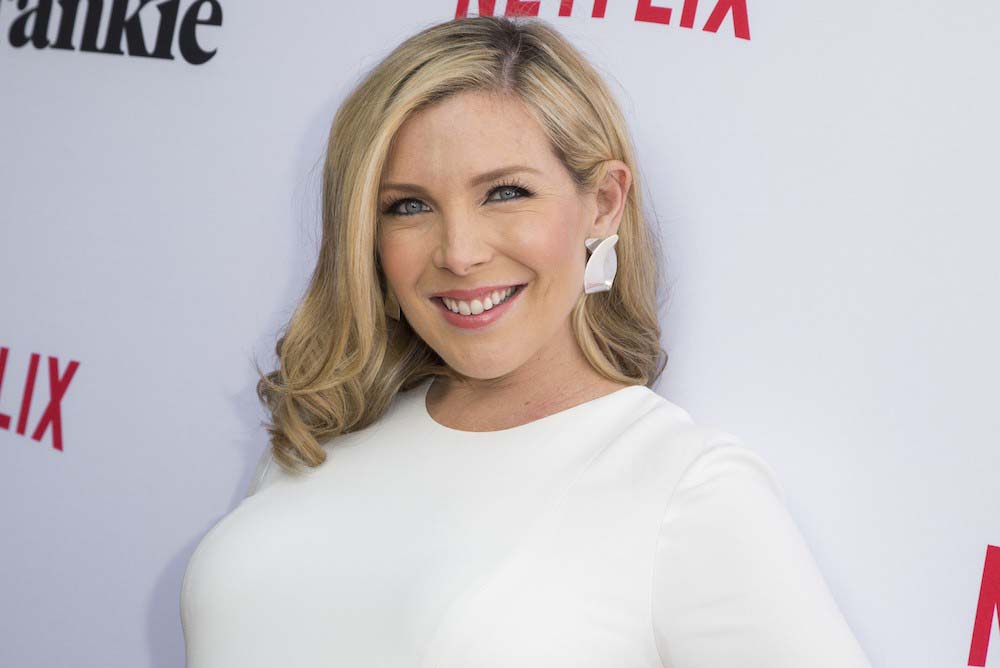 CAREER
Raphael started her career as a comedian at UCB and did the sketch called "Rode Hard and Put Away Wet" from 2003 to 2006 with her best friend, Casey Wilson. June Diane Raphael did her movie debut in 2006 via the movie titled "The Wedding Weekend," in which June played Ted's Tammy's role. The same year, she appeared June in the short film titled "Caffeine: A Love Story." The following year, she played Mrs. Toschi in the mystery film titled "Zodiac." In 2008, she appeared in the film "Forgetting Sarah Marshall". She appeared in four films in 2010.
She acted in the role of Susie in "The Dry Land", Jessica in the short film titled "Cried Suicide", Karen in "Going the Distance" and Elizabeth in "Weakness". In 2012, she played the role of a cool stripper in the romantic comedy film called "Bachelorette" and the part of Darainthe comedy film titled "Girl Most Likely". June Diane Raphael wrote and produced "Ass Backwards" in 2013. In it, she also played the role of Kate Fenner.
In the comedy film titled "Anchorman 2: The Legend Continues", she acted as Chani's Boss. 2015 saw her act as Susan Truckman in "Unfinished Business" and as Ms. Goldstein in "Bad Night". I'm the comedy-drama film titled "Girlfriend's Day", she acted as the Karen Lamb character in 2017. The same year, she worked as Robyn Paris in the biographical comedy-drama called "The Disaster Artist". In 2018, June Diane Raphael acted as Brenda in "Blockers."
The following year, she served as Maggie Millikin in the romantic comedy film called "Long Shot." She appeared as Gail in "The High Note" in 2020. She is to appear as Aurora Peterson in the upcoming film titled "Yes Day". She made her TV debut in 2002 with the TV series called "Ed," in which she appeared in the role of a student in the episode called "Memory Lane." From 2007 to 2008, she acted in various parts for four episodes of "Human Giant."
She was a series regular in 2010's "Player," in which she played the role of Barb Tolan for ten episodes. From 2011 to 2013, she played the role of Piper Ferguson in 35 episodes of "NTSF:SD:SUV::." From 2011 to 2018, she voiced Suzie in "American Dad!". Alongside the voice of Suzie, she voiced many other characters. She appeared as Julie Gristlewhite in 34 episodes of "Burning Love." From 2017 to the present date, she voices Devin in "Big Mouth." 
PERSONAL LIFE
June and Paul Scheer started dating in early 2004. Paul is an actor/comedian. They moved to Los Angeles together in 2015. They got married at Santa Barbara Museum in October of 2009. They had their first son in 2014, and June Diane Raphael gave birth to her second son in 2016. They together founded UCB's (Upright Citizens Brigade Theater) UCB Corps community. They organize several charity events for the betterment of the city. She recently adopted a dog named "Sgt Meatball" from Priceless Pets who work for rescue animals, and run adoption centers. 
Height, Weight, and Age
June Diane Raphael stands 5 feet 9 inches in height and weighs around 58 kg. As of October 2020, she is 40 years old. 
Social Media
June Diane Raphael is active on social media platforms like Instagram and Facebook.  As of October 6, 2020, she has 320k followers, follows 878 on Instagram, and 140.3k followers on Twitter. 
You can follow her on:
Twitter:
www.twitter.com/MsJuneDiane/
Instagram:
www.instagram.com/junediane/
NET WORTH
June Diane Raphael's net worth is estimated to be more than US$ 4 million as of October of 2020. She makes most of her fortune from acting in films and TV shows. 
Tags
Others