Edward Chip Hailstone, also known as Chip Hailstone is an American hunter who is well-known for his appearance in the National Geographic, reality documentary television show, "Life Below Zero."
He has attracted millions of viewers all over the world with his daily lifestyle and survival ways at one of the coldest and rural areas in Northwest Alaska.
Quick Info

Birth Name

Edward Chip Hailstone
Nick Name

Chip Hailstone or simply Chip
Birth Date

5th March 1969
Birth Place

Kalispell, Montana, United States
Current City

Kobuk River in Noorvik, Alaska
Father

Daniel Franklin Hailstone
Mother

Mary Lois Hailstone
Brother

Willie Hailstone
Education

High School Graduate
Nationality

American
Ethnicity

Caucasian
Zodiac Sign

Pisces
Height

5 feet 8 inches
Hair


dark brown
Eyes

blue
Spouse

Agnes Hailstone
Daughter

Tinmiaq Hailstone, Iriqtaq Hailstone,
Mary Hailstone, Caroline Hailstone
and Qutan Hailstone
Adopted Son

Doug Hailstone and Jon Carter Hailstone
Social Media

Twitter
Profession

Hunter, Reality Television Personality
Salary

$45 thousand
Net Worth
$100 thousand
Where was Edward born and raised?
Edward Chip Hailstone was born on 5th March 1969 in Kalispell, Montana, United States. He is popularly known by the name Chip Hailstone or simply Chip. He is the son of typical American parents, Mary Lois Hailstone and Daniel Franklin Hailstone. Edward has American nationality and Caucasian ethnicity. He has the birth sign, Pisces.
Chip lived 19 years of his youth in Kalispell where he was educated. He completed his high school at the local school. Chip grew up with his younger brother, Willie Hailstone who is a commercial fisherman today. His brother Willie calls himself "taller" and "better looking." Chip and his brother, Willie mostly spent their time fishing. They used to go fishing before and after school despite -31 degrees.
How did Chips start his career?
Edward Chip Hailstone was taught to hunt and fish by his father in his early years. He was leading an ordinary life in Kobuk River in Noorvik until National Geographic decided to show his life to the world.
Chip gained attention and recognition worldwide after his daily life was broadcasted in the series, "Life Below Zero" in 2013. The season has been running till today where Chip along with his family's life is portrayed on the series. The series has won seven Primetime Creative Arts Emmy Awards.
Married Life
Edward Chip Hailstone is married to a native Alaskan woman, Agnes Hailstone in Alaska. They are blessed with five beautiful daughters, Tinmiaq Hailstone, Iriqtaq Hailstone, Mary Hailstone, Caroline Hailstone, and Qutan Hailstone. His wife, Agnes had two sons from her previous relationship, Doug Hailstone and Jon Carter Hailstone which are now adopted by Chip. His two sons are married and are now settled and have their children.
Body Measurement
Edward Chip Hailstone turned 52 years old in March 2021. He is 5 feet 8 inches tall. He possesses blue eyes and dark brown hair. There is no detailed information about his physical measurements. But Chip is a strong man with a strong body build. He has a straight sexual orientation.
Social Media
Chip is not much of a social media user. He is active on Twitter which he joined in November 2018. Chip has gathered about 725 followers on Twitter where he can be connected with @HailstoneChip. Chip has been inactive from Twitter since May 2019. But we can find more about him and his lifestyle on Facebook, YouTube, and Instagram fan pages which go by the name Life Below Zero.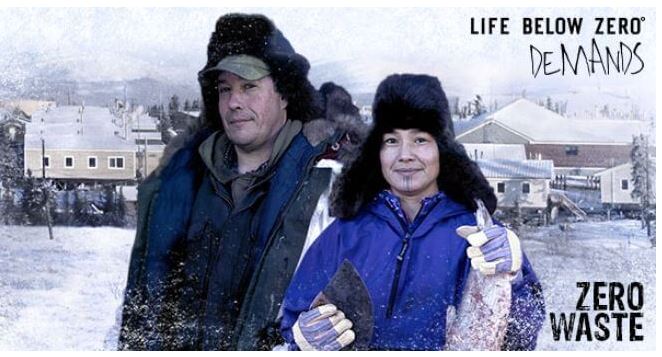 Why did Chip end up in jail?
In 2011, Chip filed a charge against the state trooper. He blamed them for assaulting her daughter, Tinmiaq physically and in 2012 he again filed a complaint about threatening his daughter of which both of them were regarded as false statements.
In 2012, Chip was sentenced to 15 months jail time after his allegations were proved wrong. However, Chip served only 10 months and returned in September 2018 making his return in the television series.
Net worth
Edward Chip Hailstone has an estimated net worth of $100 thousand as of 2021. His annual salary from the episodes is about $45 thousand. Chip is leading the same life as a native Alaskan by hunting, fishing, gathering foods from the forests. We can see his lifestyle on YouTube and Facebook.
Check out FameandName to know amazing facts on Celebrities' private life, net worth, careers, lifestyles, and more.
Tags
Others