Who is Jonathan Bennett?
Jonathan Bennett is an actor, host, and author from the United States who gained public attention after his performance in the American teen comedy film, Mean Girls where he portrayed the character of Aaron Samuels. He further received fame after his main role in the tv series, Van Wilder: Freshman Year.
Quick Info
Full Name
Jonathan Bennett
Date of Birth
June 10, 1981
Birth Place
Rossford, Ohio, United States
Parents
Ruthanne Bennett
Dr. David Paul Bennett
Profession
An actor
Model
Spouse
Jaymes Vaughan
Partners
Elizabeth Hendrickson ( 2001-2003 )
Age
39 years
Height
6'1"
Net Worth
1 million dollars
Bio, Age, Family, and Young
Bennett was born on 10th June of 1981 in the city of Ohio, Rossford in the United States. His full name is Jonathan D. Bennett and he is the son of Ruthanne Bennett who died at the age of 67 in 2012 and a Toledo physician, David Bennett who died at the age of 73 in 2014. He has a half-sister and 2 half-brothers namely Lisa, Brian, and Brent respectively. Bennett is 39 years old
He studied at Eagle Point Elementary School. He enrolled in Rossford High School in Rossford and later graduated from Otterbein University in Westerville.
Nationality and Ethnicity
Jonathan Bennett's nationality is American. He belongs to white ethnicity and has Irish, Scots-Irish, German, English, and Northern Irish ancestry. His birth sign is Gemini. Bennett's sexual orientation is homosexual. 
Physical Features
 He possesses an attractive athletic body build with hazel eye color and dark brown hair color. He is known for having thick eyebrows. When it comes to maintaining his athletic body, he loves spin classes. Thus, he dedicated himself to it so much that he himself became a Spin Instructor.
Height
Jonathan Bennett's height is  6 feet and 3 inches.
Weight
Jonathan Bennett's weight is about 78 kg.
Personal Life
Girlfriends and Relationship
Although Jonathan may have come out as gay in 2017, he also dated few beautiful women in the past. His first known girlfriend was actress Elizabeth Hendrickson with whom he dated for 2 years from 2001 to 2003. In 2012, he was rumored to have dated Stephanie Pratt but no news was confirmed. In 2014, Bennett was rumored to have dated actor, Matt Dallas as they were seen together on many different occasions. In 2017, he officially revealed his relationship with the host, Jaymes Vaughan. The couple recently got engaged and are in a happy relationship.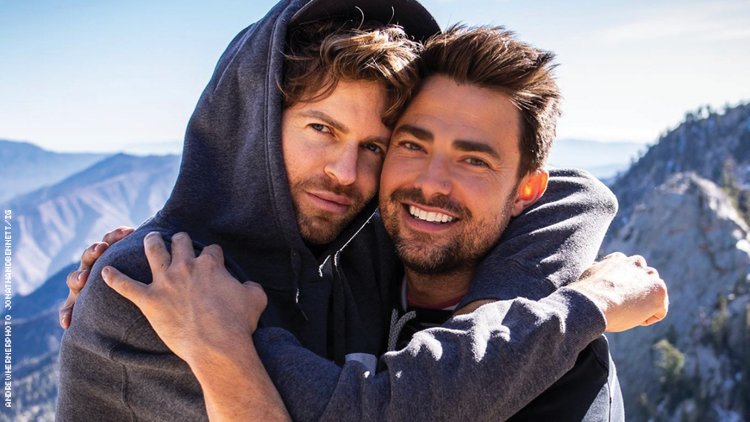 Bennett has also published his own book named The Burn Cookbook: An Unofficial Unauthorized Cookbook together with Nikki Martin.
Social media: Instagram, Twitter, and Facebook
Jonathan Bennett is an active social media user. He has earned over 882 thousand followers on Instagram. He is quite an open person and he just can't help himself to express his love from his boyfriend all over Instagram. He also has his own Twitter account with over 116.3 thousand followers. He makes sure that his fans know what he is doing and never misses posting about his coming projects and works.
Career
Television Shows
Jonathan Bennett made his professional acting debut from the television series Dad in 1997. He then played another small role in the British police procedural tv series, The Bill in 1998. He landed the main role in the American television soap opera, All My Children as JR Chandler which gained him public attention.
Then he continued on making small appearances in other tv series like Law & Order alongside Erika Jayne, Special Victims Unit, Boston Public, Veronica Mars, Smallville, cane, Fred: The Show, the Glades, Hit the Floor, Celebrity Big Brother, Supergirl, Lindsay Lohan's Beach Club, Station 19 and so on. He also appeared in a number of tv films like Love At First Glance, The Last Sharknado: It's About Time, Christmas Made to Order, The Christmas House, and in a number of tv films in his early years.
Movies
Bennett made his film debut with the breakthrough film, Season of Youth in 2003. He then landed a major role in the American teen comedy film, Mean Girls alongside Rachel McAdams as Aaron Samuels in the following year. He then played a small role in the films Love Wrecked and Chapter by Dozen 2 in 2005. In 2006, he landed his first major role in the comedy film, Bachelor Party Vegas as Nathan. He also starred in the film, Van Wilder: Freshman Year as Van Wilder in 2009. He also appeared in the film, The Assistants as Zack Cooper.
He then starred in Sam Fischer's film, Memorial Day as SSgt Kyle Vogel alongside co-stars James Cromwell and John Cromwell. Following year, Bennett continued on playing a major role in the films, Divorce Invitation, Pawn, Anything Is Possible, the Secret Village alongside Keira Knightley and Caitriona Balfe, Misogynist, Authors Anonymous which he contributed as executive producer. His other film appearances were, Submerged, Do Over, Deadly Retreat, Do You Take This Man which he also co-produced, Birds to Be, and The Haunting of Sharon Tate.
Jonathan Bennett also appeared in the music video of Arian Grande's hit song "Thank U, Next" in 2018.
Achievements, Awards, and Nominations
Jonathan Bennett earned his first Palm Beach International Film Festival Award for Best Actor after his performance in the film, Season of Youth. Following year, he earned 2 Teen Choice Awards nominations both of which from the film, Mean Girls. In 2013, he earned AOF/WAB Award for Outstanding Cast Performance which he shared with 16 other co-stars of the film, Police Guys. The same year, he also received the LAIUFF Award nomination after the film, Misogynist. In 2020, he was nominated with North Hollywood Cinefest Award for the film, Take Me to Tarzana and Reality Television Awards from Fetch Me A Date.

Net worth
Jonathan Bennett has a net worth of 1 million dollars as of 2020. He earns his millions mostly from film and television series. He has also produced few films and he has also made few earnings from his modeling career which all sums up his net earnings. He hasn't been able to make it big till now but we believe that he will make it coming days.
Tags
Others