As of this modern century, people are busy with their work and stressed with their problems. So, the one who can cheer people and make them laugh is actually god gifted. Simon Helberg is one of them. He is an American actor and comedian. He is famous for performing the character of Howard Wolowitz in the sitcom Big Bang Theory. His character and his fabulous acting have impressed the whole world and have crowned him with different awards as well.
Quick Info
Full Name
Simon Maxwell Helberg
Date of Birth
9th December 1980
Birth Place
Los Angeles, California, US
Parents
Sandy Helberg (Father)
Harriet Helberg (Mother)
Profession
Actor, Producer, Comedian, Screenwriter, Director, Pianist
Wife(s)
Jocelyn Towne (2007-Present)
Age
39 years
Height
5 ft 6 in
Children
2
Nationality
American
Ethnicity
White
Zodiac Sign
Sagittarius
Eye Color
Blue
Hair Color
Dark Brown
Net Worth
US $45 million
What was Simon Helberg's childhood like?
Simon Helberg was born on 9th December 1980 in Los Angeles, California, to Sandy Helberg (father) and Harriet Helberg (mother). His parents were in the film industry. His dad is an incredible actor himself, whereas his mom is a casting director.
He went to the same institute for his school and high school, Crossroads School, in California. He graduated from New York University. Simon Helberg studied with Jason Ritter, and he was Helberg's roommate at the University. He attended Tisch School of the Arts. Later on, Helberg did the training at the Atlantic Auditorium Company.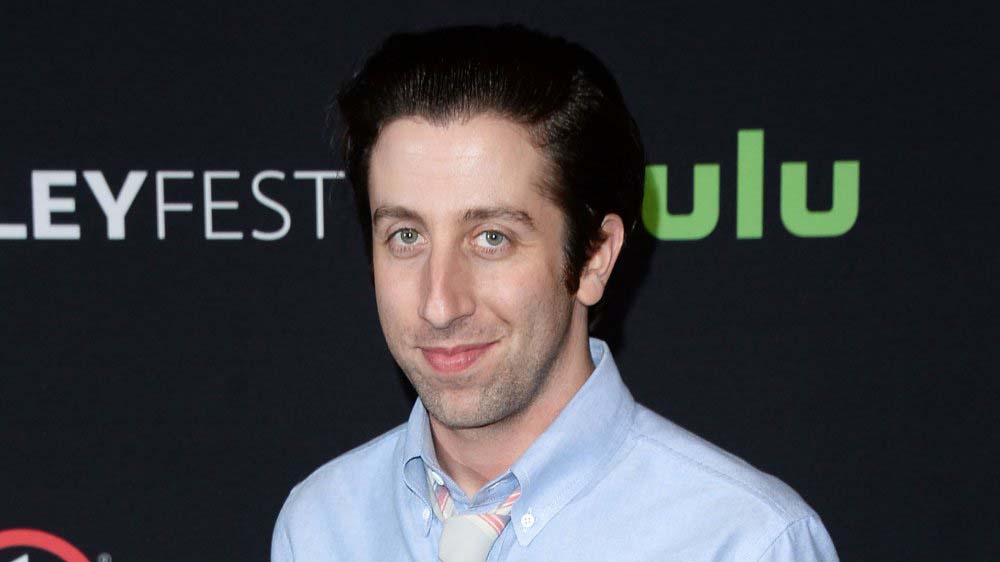 Simon was also interested in kickboxing, and he earned a black belt in karate during childhood. His favorite movie is Karate Kid, as he has an interest in a particular game.
Body Measurement
Simon is currently 39 years old from the time of writing. His body is slim. He is kind short than most of the actors. He stands 5 feet 6 inches, weighing 60 kilograms. Simon Helberg has some youthful looks with blue eyes and dark brown hair.
Who is Helberg in Relationship With?
Helberg was in a relationship with gorgeous actress Jocelyn Towne, and they took the connection to the next level, getting married on 15th July 2007. This beautiful couple has two children. The couple's first kid is a girl born in May 2012 named Adeline. They had a son, Wilder Towne Helberg, in April 2014.
Simon Helberg is also good at voice acting, and he lends his voice to Bian Zao from Kung Fu Panda. He even did voice acting in Kick Buttowski. He is a good pianist as well.
Career and Awards

Helberg started his professional career in 2000. He worked for one of the seasons in MADtv during the year 2002. He started working with other comedians Derek Waters in the early years of the 2000s and was known as comedy duo Derek and Simon. For the comedy website called super Deluxe, they created a web series named Derek & Simon Helberg along with another comedian Bob Odenkirk in 2007. This duo worked for a couple of short movies as well, Derek & Simon: The Pity Card and Derek & Simon: A Bee and a Cigarette. They are the best comedian duo at that time.
Helberg performed in the 2002 featured movie Van Wilder where he had a small role and was just a geeky student who attended the party organized by Wilder. In 2003 Simon Helberg got cast for the movie Old School with a minor role. Talking of 2004, Helberg played in pair of chapters of Reno 911!. He was in an episode of Quintuplets as a receptionist behind the counter at a shoe shop.
Helberg always had a minor and humorous role in almost all the movies he played. His art of comedy was different, making him unique from others. Simon Helberg worked for other films like A Cinderella Story, Good Night and Good Luck, Arrested Development as an employee named Jeff, and Walk Hard: The Dewey Cox Story. He portrayed the character of Alex Dwyer in Studio 60 on the Sunset Strip.
His all-time, most successful, and well-recognized role is as Howard Wolowitz, an engineer in the comedy series by CBS The Big Bang Theory. The Series was all about a group of friends living their lives and scientific discussions and some funniest scenes. He was a supporting actor and even though he played an excellent role in the hit of the Series. He started the cast in 2007.
Being recognized for his talents, Simon Helberg was called for many other roles in Sing along Blog by Dr. Horrible, a pilot episode in famed sitcom Undeclared, A serious man in 2009. In the final episode of The Guild's season 4 as a Game Master. Helberg also worked in Stephen Frears's biographical movie named Florence Foster Jenkins as a pianist Cosme McMoon in 2016. As for his unbelievable acting in the film, he was on the list of nominees for the Golden Globe Awards for Best Supporting Actor. He was also nominated for the Screen Actor Guild Awards for excellent play by an Organization in a Comedy Series in 2017.
How much is the Current Net Worth of Simon Helberg?
As the information on the Celebrity net worth, Simon Helberg has an estimated net worth of $45 million with his luxurious style of living.
Check out FameandName to know amazing facts on Celebrities' private life, net worth, careers, lifestyles, and more.
Tags
Others